Yeahs! We Share the Success.
The Yeahs Awards honor those Yeahs moments that our partners achieved by providing Yeastar P-Series PBX System for their customers to elevate communication and collaboration experience, maximize workforce efficiency, and adapt to the ever-changing dynamics. We want to celebrate the success with you!
Good Yeahs stories spread. This is an opportunity for you to showcase your achievements as we will promote those compelling stories on Yeastar's website and social media channels featuring your business. Publicity in winner announcement live events, various marketing campaigns also bring high visibility.
Good Yeahs stories deserve to be awarded. Yeastar recognizes your contribution in helping your customers and is introducing some amazing awards.
Win Your Yeahs Cheers!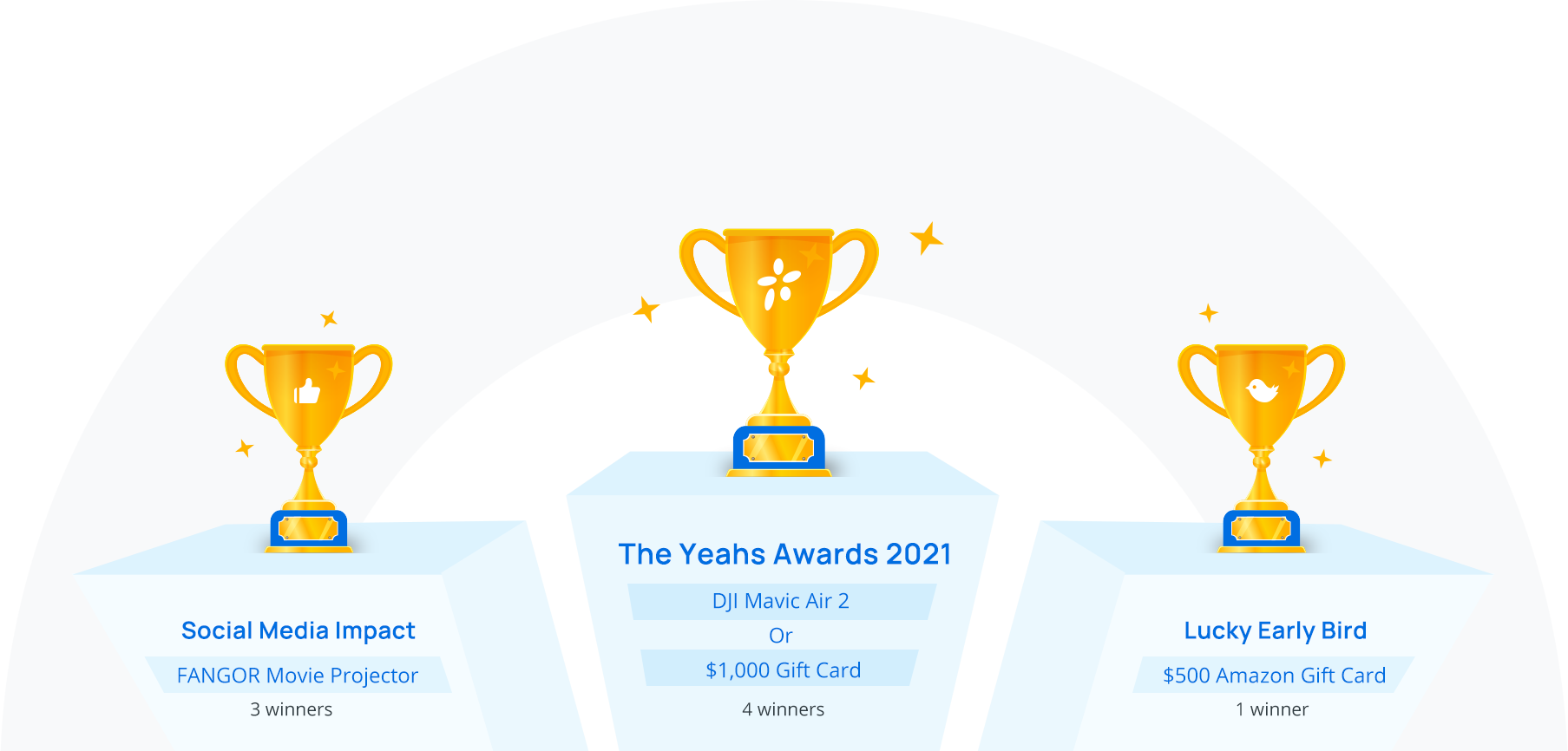 To reward your participation, we will also give every participant with qualified cases P550 Enterprise Plan free for 1 year.
Participation Rules
Submitting qualified stories means you should submit all the required valid information completely and correctly.
All submitted stories will be rewarded with P550 Enterprise Plan free for 1 year, no matter early birds or submissions afterwards, as long as by December 10. The reward needs to be claimed before March 31, 2022.
The valid engagement data in Social Media Impact count from the time we share till 5pm GMT+8, Nov 16. Social Media Impact Entry ends on 5pm GMT+8, Nov 14, posts released afterwards will not be shared by us.
You agree that the information provided in your submitted stories to Yeastar during The Yeahs Awards 2021 may be processed, stored and otherwise used for the purposes and within the context of The Yeahs Awards 2021. The collection, use and disclosure of your submitted information will at all times be governed by our privacy policy.
To participate in Social Media Impact Entry, you can only post one valid story as the entry. Extra stories submitted later will not be admitted as valid.
Early Bird Entry is just a period of the whole process. They also have chances to win The Yeahs Awards 2021.